Five reasons businesses choose KeyLink for outsourced payroll services
Working with payroll experts means you get a reliable payroll solution that fits your business perfectly. Payroll outsourcing means less workload for you, and more time for the business.
1. We employ professional payroll experts - not call centre staff
Your calls and questions are answered by our payroll processing team. On average our staff have over 10 years' payroll service experience. We are passionate about accuracy and will pay your staff correctly and on time.
2. We have a strong company culture and provide exceptional customer service
You want a payroll supplier who understand the NZ business environment and cares about clients businesses and staff. We provide a stress-free paycheck service for companies operating in New Zealand.
3. We work to understand your business, and your payroll needs
We provide payroll services and paycheck processing solutions for a huge range of businesses in different industries. For each client we take the time to understand the impacts of payroll decisions on your business and employees so we can create the best payroll solution for your needs.
4. We provide affordable customised outsourced payroll services
We can create customised payroll solutions that fit your business requirements. Our payroll system means we can remove complexity and provide you with a seamless, reliable outsourced payroll processing solution.
5. We strive for minimum hassle and maximum payroll efficiency
Payroll processing should be painless, accurate - and reasonably boring! Once you have sent in your company timesheets, we'll take care of the rest from staff paychecks to IRD returns.
Let's talk about how KeyLink payroll services can best help you!
We promise not to give you a hard sell. One of our payroll experts will call for a quick 15 minute chat, listen to what you need, and explain how KeyLink can provide an outsourced payroll service that works for your business. Get in touch with the form below, or call us on 0800 4 Payroll to start the conversation.
Meet the KeyLink payroll professionals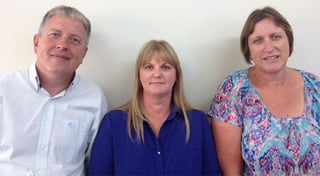 Evan Lyon: Owner, over 25 years' experience in designing, building and running mission-critical IT systems. Over 10 years' of experience supporting and using payroll systems.
Brenda Dickson: Payroll Officer, over 25 years' payroll experience with large and complex payrolls
Linda Tana: Payroll Officer, over 4 years' payroll experience in NZ and Australia.
Browse our
Staff Culture
and
Company Mission
to understand what drives our company's professionalism.